It's been a while so I thought I should post an update. My last race was the
Stone Mill 50
(
actually about 55
). I went into the race pretty beat up and after 20 or so miles knew I wouldn't be able to push it at all, so it turned into more of a fun day jogging on trails. Still good enough for a 4
th
place finish, but nowhere near what I should I have run it in. The race itself is great – well put on, good aid stations, and the course is almost entirely single track trail in Seneca State Forest. It's also the same day as the JFK 50, so if you are looking for an alternative at a much cheaper cost ($35 entry fee) this is your race.
Since the race, I have cut back my running trying to get fully healthy for 2012. No real injuries, just tweaks, pulls and strains that accumulated over the course of the past year's races. I did head down to the Hellgate 100k+ this past weekend to crew for my friend Brad. It was an interesting experience being on the other side of a race (especially a Horton race). I learned a lot and it was fun to watch the race unfold. Brad ended up with a 5th place finish, despite having a rough patch most of the second half of the race. It's always inspiring to see someone dig deep and push through to the finish.
I am still trying to put together my schedule/goals for 2012. I did get into
MMT 100
, so I plan on going back and (hopefully) finish much faster and compete for the overall win. I am also 36
th
on the
Hardrock 100
wait list; in many years that will get you in, but it's 50/50 from what I've heard. There are many other races I am considering, but have not yet decided on.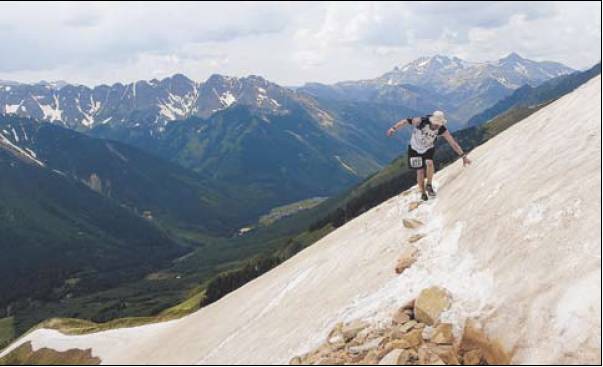 Maybe I'll be here in July?
Next year I will be running for the racing team of my local running store,
Potomac River Running
. This means I'll get my fair share of speed work at local 5K, 10K and half-marathons. I am also glad to be sponsored by
Hammer Nutrition
for 2012. I have been using Hammer products exclusively since I started Ultra running and it has worked great for me. Many people are familiar Hammer gels and Endurolytes, but Hammer has many other products to help endurance athletes perform including Perpetuem, Sustained Energy, FIZZ and Recoverite to name a few. Now with Hammer's support, I will be able to get an even better handle on fueling and recovery and should see continued improvement in my performances for 2012.
"Life's battles don't always go to the strongest or fastest man,
b
ut
sooner or later the man who wins is the fellow who thinks he can
." - Pre